The 98.1 KJUG California Mid-State Fair
BOX OFFICE BLITZ
It's your chance at free tickets to a 2019 grandstand show!
When we open up the "box office blitz" you have 9 minutes to TEXT a special keyword to the 805 Beer Text line! If we hit you back, you have to answer to win!
The Box Office Blitz will open at a different time every weekday, sometimes more than once! Every time we play…it's for a different concert! And, every Box Office Blitz has a different keyword. Listen for the keyword…then listen for the "cue to text!" You'll have 9 minutes or roughly within 3 songs to text to win!
Win your free tickets to Miranda Lambert with Randy Houser…Old Dominion with Joe Diffie…An evening with the Zac Brown Band…and even the sold out Blake Shelton show!
You wanna upgrade to the Front Row?  CLICK HERE TO REGISTER TO WIN FRONT ROW!
The California Mid-State Fair runs Wednesday July 17th to Sunday July 28th and the KJUG Box Office Blitz can happen anytime!
Grow It Show It Win It!
In honor of Joe Diffie's opening slot with Old Dominion July 25th at the California Mid-State Fair, Tom Keffury has challenged Jug Country to Grow It, Show It, and Win!
Click Here To Enter Mullet Madness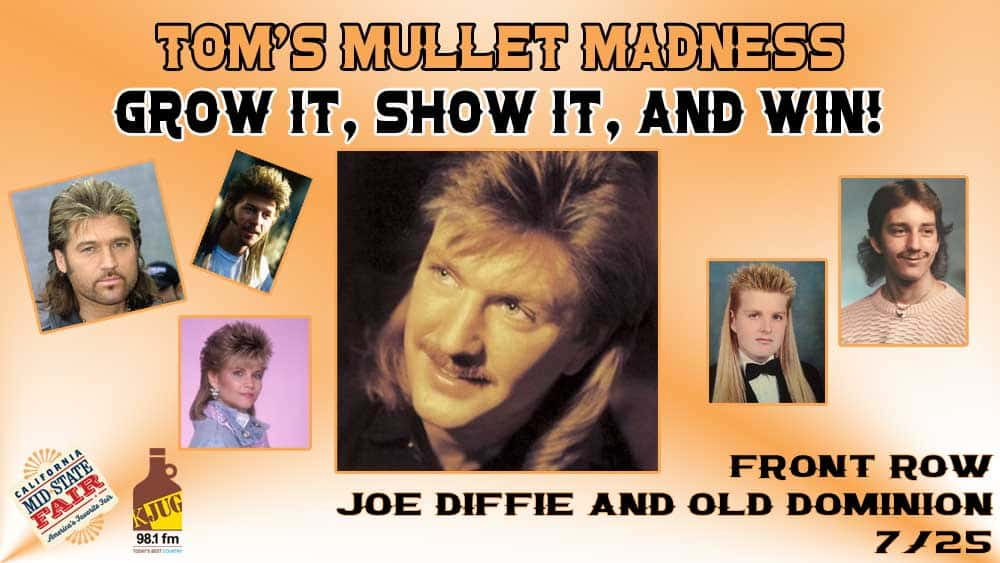 The KJUG Corner at Jimmy's Watern' Hole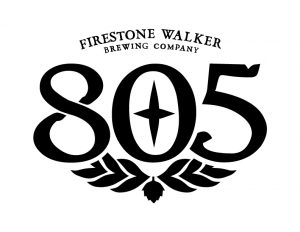 Join 98.1 KJUG broadcasting live from the "805 Beer Air Chair" everyday from 3p-7p at the KJUG Corner, located at the north end of the midway.  Eat, drink, and meet your friends at Jimmy's!
The KJUG Barn Dance
Jimmy's is also the site of the famous nightly KJUG Barn Dances which happen every night from 9p to Midnight.  The dances are free with your paid fair admission and open to all ages.  The Central Coast gets down with the Big Brown, 14 foot Jug!  The Barn Dance is made possible by C&N Tractors, Boot Barn, and Rustic Fire Pizza!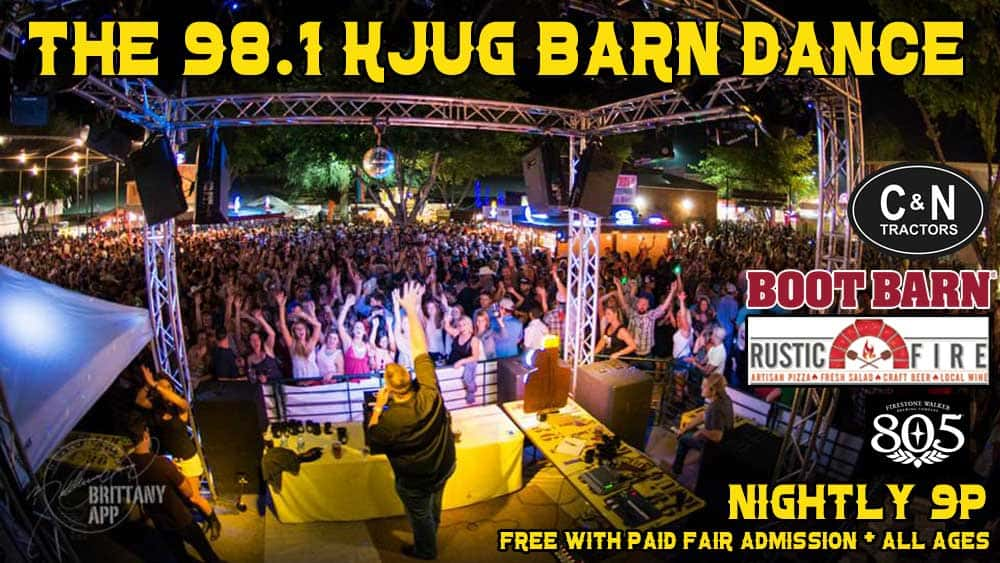 The KJUG 4H and FFA Moment
98.1 KJUG and the California Mid-State Fair are proud supporters of our 4H and FFA students! If you have a student involved at this year's fair, join KJUG for our "4H and FFA Moments" live from the fair everyday at 4:30pm. A limited number of spots are available to highlight students and their leadership and community service!  The KJUG 4H and FFA Moment is made possible by Eagle Energy!
EMAIL US AT kjug@jugcountry.com TO REQUEST A SPOT